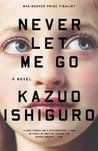 Never Let Me Go by Kazuo Ishiguro
My rating: 3 of 5 stars
Ishiguro probably isn't the guy to read if you're looking for closure in your literary experience. He's the crown prince of the anti-climax, the pope of pointlessness, the CEO of ennui.
His methodology for doing so is downright demented genius. In the future, if reality show producers can implant cameras directly into the brainpans of contestants they'd still not produce something so focused on the minutiae of ego and dramatics in the face of everyday events. They'd still not capture the depths of Ishiguro's prose. It'd require some sort of juicing equipment to squeeze the liquid pain right out of the neurons to get something equivalent. Honestly, it's something of a bizarre experience. I got quite sucked into this one, but the whole time I was asking myself, "Why? Why am I reading this? I could not be doing something right now. I don't have to read about someone else not not doing anything either…. Do I?"
I guess I do. I went right along for the ride. The fact that it's a roller coaster that never really has any thrills doesn't seem to enter into the equation. It just goes up, up, up, clicking away, building to a whole height of expectation and tension.  Just when you think you're going to slip into freefall, the ride suddenly starts back up again, leaving you unsatisfied but still in a state of anticipation, so you stay in your seat as the ride climbs inexorably to a new height from which to plummet.  And then you get out. Next customer please.
So, with all that abstraction out of the way, let's get to some confusing specifics, like how one would classify this novel. First off, it's barely science fiction. There is cloning as will become obvious to anyone relatively soon after they pick up the book, but if Ms. Atwood can say that her work is really "speculative fiction" rather than science fiction, then I think a very similar argument can be made here. The existence of clones and mentioning some genetic improvement possible on the human genome are the only science fiction elements. Well, that and an apparently preternatural super-Englishness, if you will. More on that in a bit.
The premise of the book is that clones are bred, raised and then harvested as organ donors, which is hardly an original thought, let alone for something published in 2005. Where Ishiguro does differ is in portraying the subject of such a program in stark, emotional terms. He lavishes them with all the pettiness and foibles of kids in a more or less dominant and oppressive social structure. To wit: a British boarding school. It's not really a boarding school, but a near equivalent for the raising and housing of future organ donor clones. However, it has all the elements of such an environment that will be recognizable to anyone who attended any sort of public schooling: bullies, teasing, humiliation, cliques, best frenemies, ridiculously empowered administrators with little meaningful authority, etc. In brief: the adolescent public/private school experience, and all the social interaction nightmares that entails.
Within that context, the book is very British. Or, rather, it's very English. Hyper-English, with some expatriated Japanese self-sacrificial, suicidal servility on top.  (Which is no accident.  Ishiguro was born Nagasaki, and he and his family moved to England in 1960 when he was five.) Indeed, it is very upper-middle/lower-upper class English. Here's a scene to illustrate what I mean:
But Miss Lucy was now moving her gaze over the lot of us. 'I know you don't mean any harm. But there's just too much talk like this. I hear it all the time, it's been allowed to go on, and it's not right.' I could see more drops coming off the gutter and landing on her shoulder, but she didn't seem to notice. 'If no one else will talk to you,' she continued, 'then I will. The problem, as I see it, is that you've been told and not told. You've been told, but none of you really understand, and I dare say, some people are quite happy to leave it that way. But I'm not. If you're going to have decent lives, then you've got to know and not properly. None of you will go to America, none of you will be film stars. And none of you will be working in supermarkets as I heard some of you planning the other day. Your lives are set out for you. You'll become adults then before you're old, before you're even middle-aged, you'll start to donate your vital organs. That's what each of you was created to do. You're not like the actors you watch on your videos, you're not even like me. You were brought into this world for a purpose, and your futures, all of them, have been decided. So you're not to talk that way any more. You'll be leaving Hailsham before long, and it's not so far off, the day you'll be preparing for your first donations. You need to remember that. If you're to have decent lives, you have to know who you are and what lies ahead of you, every one of you.'
At that, all of the students, rise up and… go with it! 'Well, so what? We already know all that.' That's the reaction. Seriously, that's a quote from the book.
Can you imagine that scene playing out in a school in some other English speaking part of the world where calm, under-stated reserve isn't a fetishized social value? I don't see that even happening in a British/English school, mind you, but the idea of placing that scene in Scotland, Australia or–Heaven forbid–the United States just doesn't jibe. Nonetheless, the point of Ishiguro's story is that he never gives you a resolution for that injustice. In nearly any other piece of entertainment, one would take that kind of speech as a call for revolution. But Ishiguro will give no satisfaction to that emotional desire for injustice, build up, rebellion and resolution. In truth, such resolution is a rare commodity in real life–not nearly as pat and simple as it is generally portrayed in fiction–and in that sense he's giving us a much more truthful representation of humanity.  And if one looks at the current state of the world, it's hard not to recognize those self-same qualities in every nation on Earth.  They're just not quite so British about it….
So, if you go through the whole book wondering when the penny is going to drop, it never does. Nothing drops. There is no penny.
Instead, we get a strange piece of literature, but one that is an illustration of how most people really fail stand up for anything. Even in the tumult of massive social change, there are only a few true participants. The rest are merely in attendance, lend little more than their numbers to the unfolding of events, and really have no more connection to events than to include themselves with that barest of participation trophies that we award ourselves, and upon which we place so much significance, but which have so little actual meaning, the feeble admonition, "I was was there." What Ishiguro describes is a society where there are no movers and shakers, just a mindlessly grinding social machine that eats itself like ouroboros on Quaaludes. He's showing us the commonality of humanity that led so many to walk impassively into the gas chambers while so many more looked on, that allows so many of us to turn a blind eye to the suffering around us right now, that prevents us–even as we espouse views that directly oppose such things–from doing anything in the face of the predation of the few on the many that we see every single day.
In doing so, he dips into some Orwellian language for his vocabulary that is chilling. The clones are not clones, of course, but students, then carers (when they provide company to their fellows as they go through the surgical procedures) and then donors. Their instructors are not teachers, but "guardians." Clones do not die when they are finally put to death. Instead, they "complete." These are horrific terms delivered with the deadpan indifference that is brutal, but completely recognizable in a world where newscasters and politicians use terms like "collateral damage" to describe the gory dismemberment of civilians with industrialized killing machines with cold, calculating cynicism.
If Ishiguro has a fault it is in the repetitive nature of his plotting and anti-climaxes. That is, his technique is to foreshadow a situation with a term or even just a word in a way that tantalizes the reader, and then over the course of the next few paragraphs, pages or even the whole book, reveal what he hinted at. It's a fairly standard technique, but in this case, that foreshadowing inevitably leads to an anti-climax. For example, Ishiguro ends Chapter Eleven with one character, Tommy, discovering our protagonist, Kathy, leafing through some pornographic magazines. When Tommy asks her what she was looking for she gets coy, and Ishiguro ends the chapter with this sentence: "I did tell him eventually, but that wasn't until a few months later, when we went on our Norfolk trip."
That hint leads to what will be an anti-climax. To get to that anti-climax, however, we have another chapter with a trip to Norfolk that has it's own set up, build-up, and anti-climax, and within that chapter there are a few minor set ups, build-ups and anti-climaxes. The whole structure of the book is a broad, looping series of set ups, build-ups and anti-climaxes until you get to the final one that was set up in the first chapter and then resolved (or not, as it is, after all, an anti-climax) in the last. From a structural standpoint, it's quite an accomplished piece of work.
But it's not a thriller. It's all angst all the time. Angst and what folks today sometimes call "butthurt." You could make a drinking game out of the number of times people stomp off in a huff over some triviality or another. The particulars of every expression and posture of characters are related in sometimes agonizing detail, and it does get repetitive. By Chapter Sixteen when I came across this paragraph:
But to explain what we were talking about that evening, I'll have to go back a little bit. In fact, I'll have to go back several weeks, to the earlier part of the summer…."
I actually blurted out "Oh, fer Chrissake!" and had to put the thing down for a while. At certain points, this book could try Jane Austen's patience….
Do I recommend it or not?
I can't give this one a thumb's up for most folks. The subject matter isn't at all difficult, and it did read well for me personally in that under-stated, Oh-so-English way, but thematically I think there are some real problems. He is using the idea of clones and organ donation to tell a story about the human condition, but that basic premise is already a dated one, and arguably has been dated for a long time. For all of it's accomplishment in terms of theme, structure and emotive content, the story itself is highly affected and contrived. Not one character thinks to run away, to challenge the system that they are a part of, to even contemplate resistance. They don't even discuss it. That means either these clones are modified away from humanity that they aren't actually human–and we should, therefore, not be as concerned about their fate–or that presentation itself is ultimately inaccurate. The closest we get to bucking the system is a response to a rumor that under certain circumstances their fate might be "deferred" for a few years. As a result, the accomplishments of the book are vitiated, and even in appreciating them, we have to recognize them as abstractions. The lessons to be learned from the book are not direct, meaningful ones, but remote and generalized so far as to make them quite thin.
If you have an interest in structure and what I have to describe as an artfully depressing story, then I can highly recommend this one. For the average reader who isn't interested in those things? Well, there are social satire/authoritative books all over the place, and if we didn't already accept the fundamental humanity of clones then any number of more direct, action/adventure stories that precede this one wouldn't exist. So, go read Orwell or Atwood for examples of speculative fiction. Those books might not be as carefully poignant as Ishiguro's version, but they are more profound.
I gave it three (of five) stars on Goodreads, which probably isn't even remotely fair; it's a much more accomplished piece of work than that middling rating conveys.  But if anything one of the lessons of this book is that life isn't fair, and that such things are personal and cruel even when we want them to be just and fair, so I'm sticking by that assessment.